Samsung Galaxy Nexus Verizon: rilasciato l'aggiornamento 4.0.4 di Ice Cream Sandwich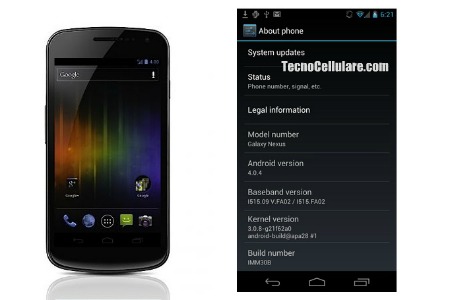 Samsung ha appena rilasciato per i Galaxy Nexus Verizon americani l'aggiornamento 4.0.4 di Android Ice Cream Sandwich.
Moltissime le novità di questa versione anche se la principale è il netto miglioramento del modulo telefonico.
Ecco il changelog ufficiale:
– Noticeably Faster
– Android OS bug fixed (in battery stats)
– Long-pressing on a blank spot on the last page of app tray bug is gone
– New Radios. 3G/4G switching MUCH better. Don't even notice it changing
– Improved signal strength
– New Power Menu. New from 4.0.2, familiar to those who have used a stock 4.0.3 rom
– PRIMELA03 Bootloader
– Faster boot up time
– Auto-brightness Functionality changed. Smooth transition
– Holding down camera button now refocuses again
– Multitouch issue seems resolved
– Autorotate is faster
– Browser performance noticeably improved
– Recent apps list opens faster
– Miscellaneous camera UI changes
– Increased volume
– Keyboard fixes
– Updated News & Weather app UI
Nessun dettaglio riguardo l'uscita dell'aggiornamento in Europa anche se si auspicano tempi brevi visto che molti hanno riscontrato problemi proprio con la sezione telefonica del Galaxy Nexus.